Imperial College Alumni Weekend Festival 帝国学院 2016
The Imperial Festival took place on Saturday 7 May and Sunday 8 May 2016
At the basement of Imperial College Chemical Engineering Department's Carbon Capture pilot plant on 7 May 2016 在帝国理工学院化学工程系的碳捕获试验工厂的地下室在2016年5月7日
2016年5月7日和8日帝国理工学院节的快照,成千上万的游客在一个阳光明媚的周末下降South Kensington南肯辛顿,探索所有科学的东西。这是我们第一次参加这个第五届的节日。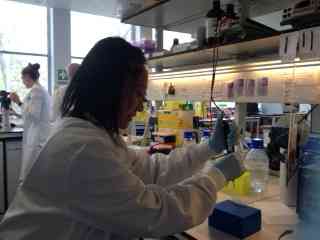 At Imperial College's Life Sciences' cancer research laboratory on 7th May 2016 ( 在帝国理工学院生命科学"癌症研究实验室在2016年5月7日)
This week's Felix newspaper, click meA snap shot of Imperial College Festival on 7th and 8th May 2016. Thousands of visitors descend on the College's South Kensington campus over a sunny weekend for the fifth annual exploration of all things science. Photos snapped by William, copyright, default processing using DxO Optics Pro with lens correction (no Photoshop, no lens filter). 每张照片使用 350 kB to 800 kBytes 的数据流量, 使用WiFi效果最佳。
You can read what was on in Event Programme (click me). Event web link http://www.imperial.ac.uk/festival/about/festival-2016/
and should this link and its contents be removed then read this write up and what was on. This year (2016) was the first year that Chemical Engineering Department took part in this annual alumni festival event.
For the first time in over half a century, one of Imperial's original mascots from 1955 was on display at Imperial College for the first time, see photos below and its report. (Official Imperial web link but this link may get broken in future
http://www3.imperial.ac.uk/newsandeventspggrp/imperialcollege/newssummary/news_28-4-2016-16-37-8
帝国学院校友周末节日 7-8 May 2016 (视频在下页)
Festival Video

校友

周末

节日

视频
These videos were shot live on location on 7th May with audience. 这些视频是5月7日现场拍的(与观众)。Thanks and credit to Imperial College, I put links here from https://www.youtube.com/user/imperialcollegevideo so to help your ease of locating the youtube links as Imperial College youtube channel gets updated rapidly and you may not find the links easily in future.