平凡

地

英国

週末一行An average weekend day in England 14 May 2016
An impromptu snapshot using a mobile phone of a casual stroll in Church Street, Old Isleworth. This captureed the mood of an average but popular visit to a river bank along The Thames river on a fine day (Saturday, 14 May 2016). I hope this gallery captures an example of how one passes time here in England without the internet. A moment to reflect and to enjoy what's around us that's green, tranquil, slow and pleasant. 丰富英国风格的随便河边散步西南伦敦·
With reference to the above map, my stroll as shown with photo gallery was from red Google marker along Church Street towards All Saints Pre-School. Note that the above map shows The Thames in low tide, in high tide, the water comes close to where the cars are. 由地图红点向西步行
Some notes on local history using the photographs below:-
艾尔沃斯河边 Isleworth river bank, Church Street,
The above gallery follows a typical itinerary by a river:-
Go to river, optionally feed ducks and geese, view the river scenes, walk along the embankment,
Visit and buy food and drink at market, if there is one, held once a month at a weekend, usually Saturday (not Sunday for church goers),
Alternatively or as well as, take English tea and cake at a communual building (church, scout group, community centre), volunteers baking cakes for sale, serving English tea are an important feature of English life in fund raising; visit and take note of the history of the (old) buildings nearby, (research on history afterwards),
Optionally visit a local English pub to have a pint and to eat lunch.
This was how the All Saints Church was before the fateful night Friday, 28th May 1943 in which two boys, aged 12 and 13 set fire when they had broke in and had found no money inside. 以下照片是1943年之前,是这年(第二次生界大战)二个十二丶十三岁男孩破入教堂偷钱,找不到钱纵火。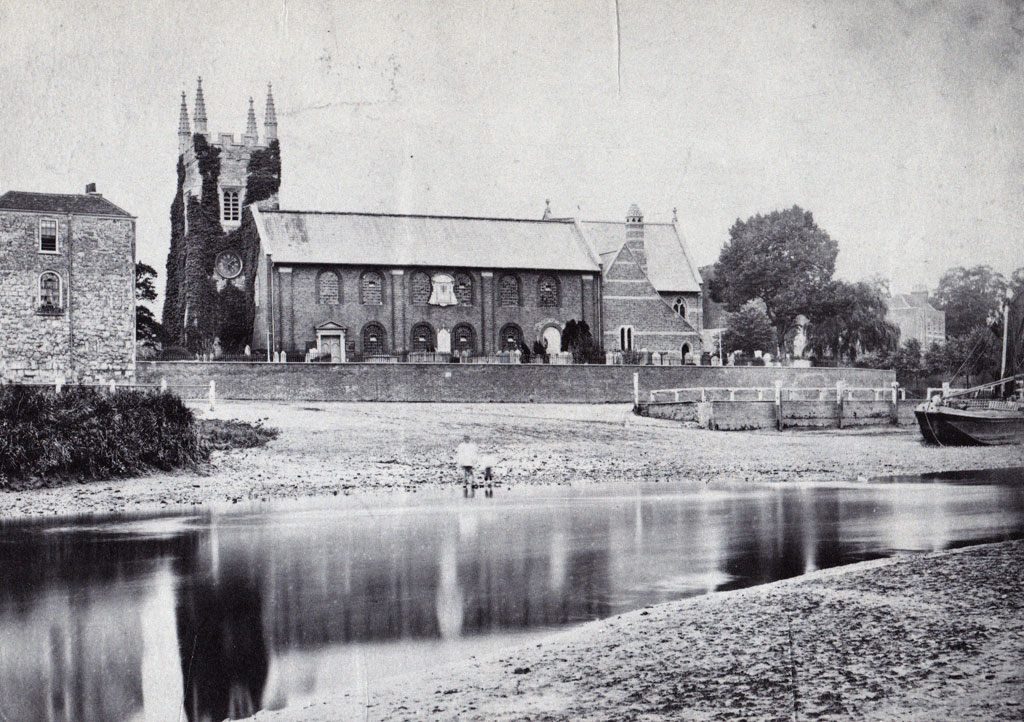 All Saints' Church before the fire in 1943
They also burnt another church on the following day, Saturday 29th March 1943, the Broadway Baptist in Hounslow. Fortunately that fire was extinguished before any real damage could be done. That same afternoon the Mission Hall in Wellington Road North also caught fire. Again the fire was quickly extinguished. The police were immediately suspicious and church officials were quietly advised to check and secure their premises. Three days later, on the afternoon of Tuesday 1st of June 1943, the same two boys set fire to the Parish Church of Hounslow (Holy Trinity) which was completely destroyed by fire. The two boys were caught and put into care. However their names were known by a few people who kept their names secret ever since (who would have been 85, 86 years of age in 2016 if they still live in the same area).