OThe text , written in late Early Modern English, inscribed on Sir Orlando Gee's memorial in All Saints' Church, Isleworth (transcribed by William C on 14 May 2016 with some changes to letters to make the text more readable in 2016).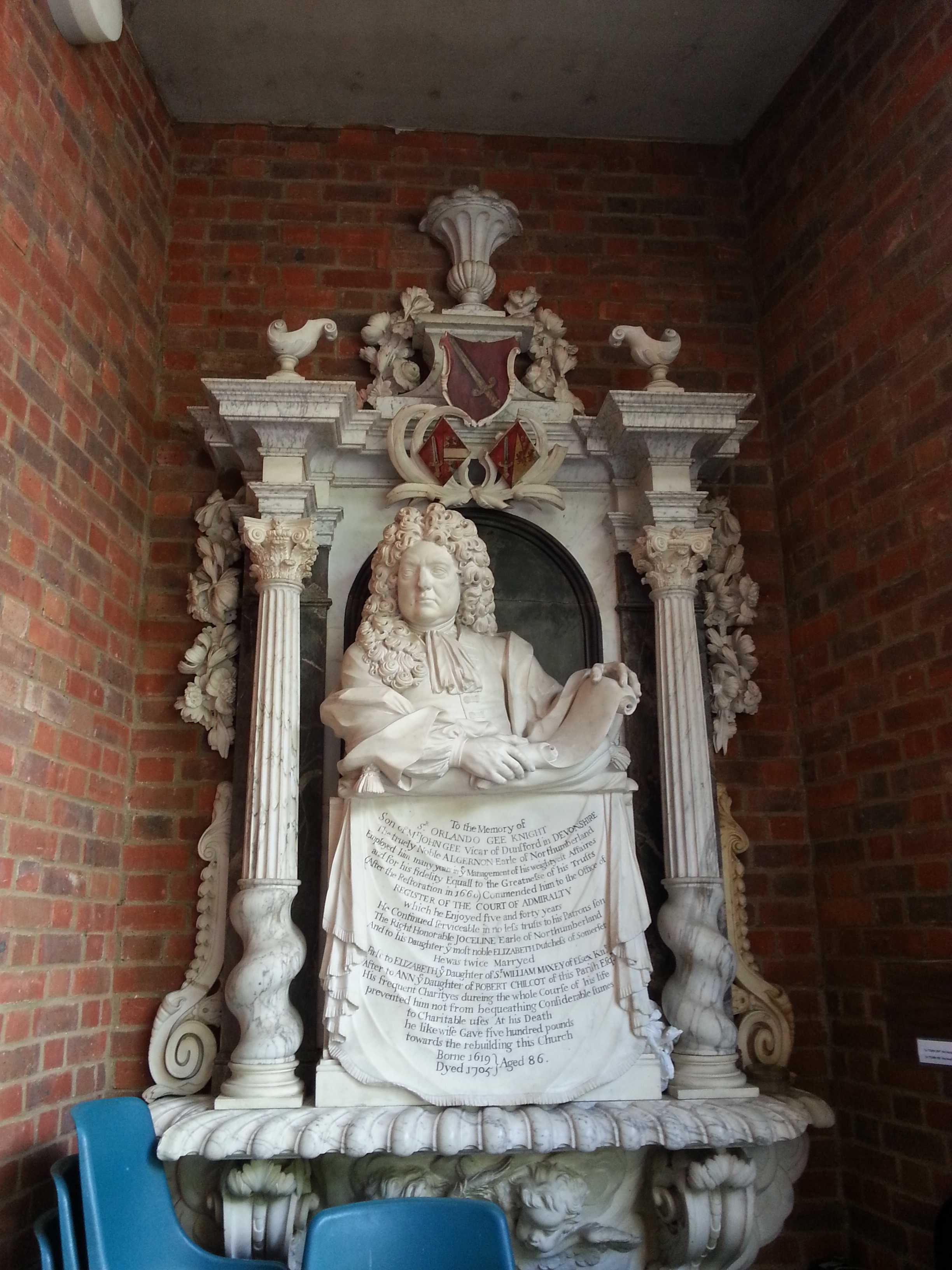 Sir Orlando Gee Memorial
"Ye", "
",written using throne letter "y" with "e" on top is "the". ("Thorn" (ƿ) letter is the predecessor to the modern digraph "th".) ƿ in Middle English gradually became "y" in Early Modern English, so the "the" in
became
(see the photo of Memorial inscription for Sir Orlando Gee). Note also that "y" reads "i" in today's English.

To the memory of Sir Orlando Gee, Knight, son of Mr. JOHN GEE, vicar of Dunsford in DEVONSHIRE. The truely noble ALGERNON Earle of Northumberland Employed him many years in ye Management of his weightyest Affaires, and for his fidelity Equall to the Greatness of his Trusts (after the Restoration in 1660) Commended him to the Office of REGISTER OF THE COURT OF ADMIRALTY, which he Enjoyed five and forty years. He continued serviceable in no less trusts to his Patron's son the right honorable JOCELINE Earle of Northumberland, And to his Daughter ye most noble ELIZABETH Dutchess of Somerset. He was twice marryed, first to ELIZABETH ye daughter of Sir WILLIAM MAXEY, of Essex, Knight. after to ANN ye daughter of ROBERT CHILCOT, of this parish, Esquire. His frequent Charityes dureing the whole Course of his life prevented him not from bequeathing Considerable sumes to Charitable uses. At his Death he likewise Gave five hundred pounds towards the rebuilding this Church. Borne 1619 Dyed 1705 Aged 86 (Note that this rebuilding work was carried out in 1706.)