A day at IC Freshers Fair
A Day at Imperial College Freshers' Fair
6 Oct 2015 by William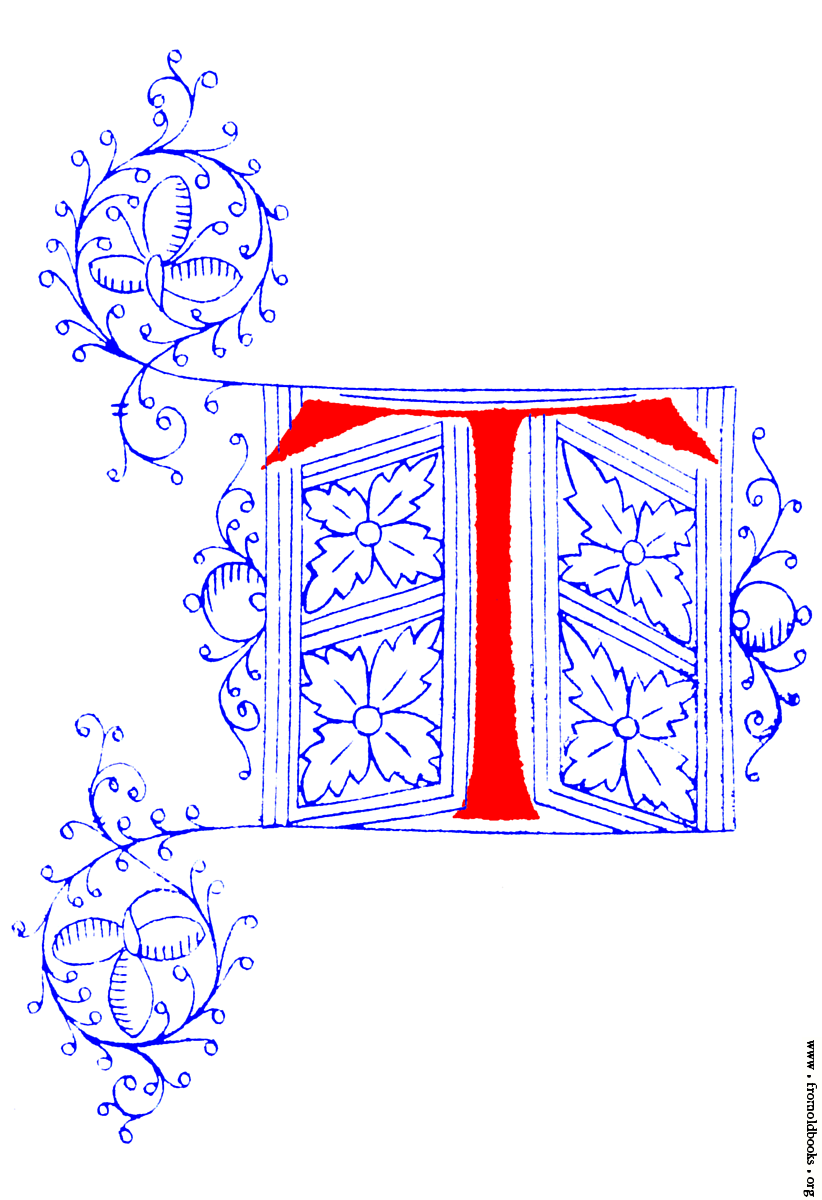 he British have an obsession about the weather. Without exception I had to review the weather for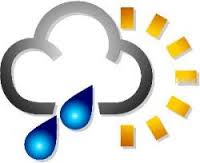 ecast and hoped for a fairer Autumnal day. The event that I was about to set out for was and is the tiny piece of land of hope and glory for the thousands of students who arrived recently at Imperial, many of whom had arrived on these shores from the distant orient. The pitter-patter of raindrops fell on leaves that were still on boughs wavering in the morning breeze with a grey overcast sky. Surely the overcast heavens would give up so as to let in rays of sunshine that would penetrate and to warm those hearts of loneliness. Many of whom had been embraced by their mothers' busoms not too many days ago at airports. Vast majority of the stalls were indoor leaving the Quad Beit lawn, Prince's Gardens and the Queen's Lawn as the usual outdoor locations. Come what may, the weather would be no show stoppers for an enormous collection of clubs, societies and projects to greet the loneliest of the timid souls, to satisfy the inquisitors and to facilitate friendship.
Upon leaving the South Kensington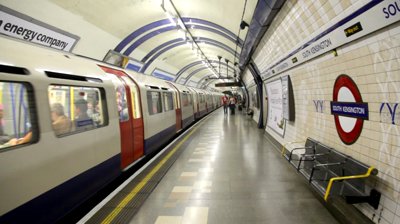 tube station at 11:20, when I was walking along the now almost pedestrianised Exhibition Road, save for one single file of motor traffic, I was greeted by the tinniest of drizzle which soon petered out with the streets refreshed from the London fumes. I entered Imperial via its main entrance consisting of two giant automatic revolving glass doors and one automatic normal glass swing door. What was remarkable was that two uniformed security guards were the only visible guards on campus that I saw this day. There was a not a teaching staff anywhere in sight, it was truly a students' event for students. All the stalls were heavily crowded with students at lunch time. I had a mission and it was to take some snapshots to share with others on the internet. The City and Guilds hallway on the ground floor (or was it first floor?), aka Mechanical Engine
IC main entranceering, was packed with subject interest academic project stalls, the hall was so packed with students chatting to stallholders that I soon abandoned my attempt to visit these stalls. I made my way quickly to the vast open concourse called the Upper Dalby Court, former students would remember this open social space in old times as the vast open space between civil engineering and electrical engineering. It was here I met some Chinese students who came from Singapore and China. There was a young man who came from Shun Yang studying materials science. It was his first year and he spoke with confidence and self-assured of his next three years. On the Upper Dalby Court one could sense how clean and tidy this vast open space was and this level of cleanliness, I learnt subsequently, was everywhere at IC. Proceeding to outside the electricals and electronics building I met a group of Singaporeans. I was not sure if they still did combat and survival training in Singapore but the young adults spoke at ease feeling at home in another English speaking city. The Sherfield Walkaway was and still is the spine of IC. It runs all the way to Huxley. It was in this walkway that my wife and I had the longest conversation with a Chinese mainland student. He was a second year student and he had aspiration to study further in USA. As before and will always be, the lure of Uncle Sam is the land of more opportunities. In UK one gets to feel unwanted, unloved and unwelcomed as a student eventually. The Sherfield is the central communal hub. I visited the upper Junior Common Room, where I recalled that I once sat and met a bunch of HK students for the first time in a fresher night disco, then was the era of "Saturday Night Fever" and the hot blooded question of "How deep is your love?" That seating position was now adjacent to a "Pie Minister" gourmet pie shop. I goggled at the circular perfectly browned single pies, a delicious gourmet pie in comparison with those steak and kidney pies in the seventies which were sectioned as portions on large aluminium catering trays. Then I was greeted next by a "F-East" fast food shop around the corner. The serving counter with cashier was dominated by two huge perspex steam cabinets which were filled neatly with steamed buns and dumplings. This was a fast food counter offensive against western values, the battle between burgers and chips and steamed buns and udon fought in the room for commoners and democracy triumphed, well, voted in by the belly and the burger was frog marched off the central campus. At the opposite end was a boutique sandwich shop well stocked with a huge variety of snacks and drinks to accompany the large selection of different sandwiches with exotic fillings and high fibre brown bread adorned with grains and seed. As it was noon an accented cashier sat eagerly waiting for the lunch hour rush to start. She just arrived from Cyprus this week and came into this catering job straight away. This patch of land at IC is indeed a land of hope and glory to others too and whose purpose was not education. After seeing the large multi-coloured shelves, remembering that the brighter the colours the vegetables and fruits are the more health, I remarked to the Cypriot cashier that those banks of sandwiches relegated sandwiches of my student days as likened to be prisoners' rations. She expressed thanks for my appreciation. In between the food were stalls manned by students for all sorts of hobbies and leisure pursuits, for example, there was a stall for dungeons and dragons.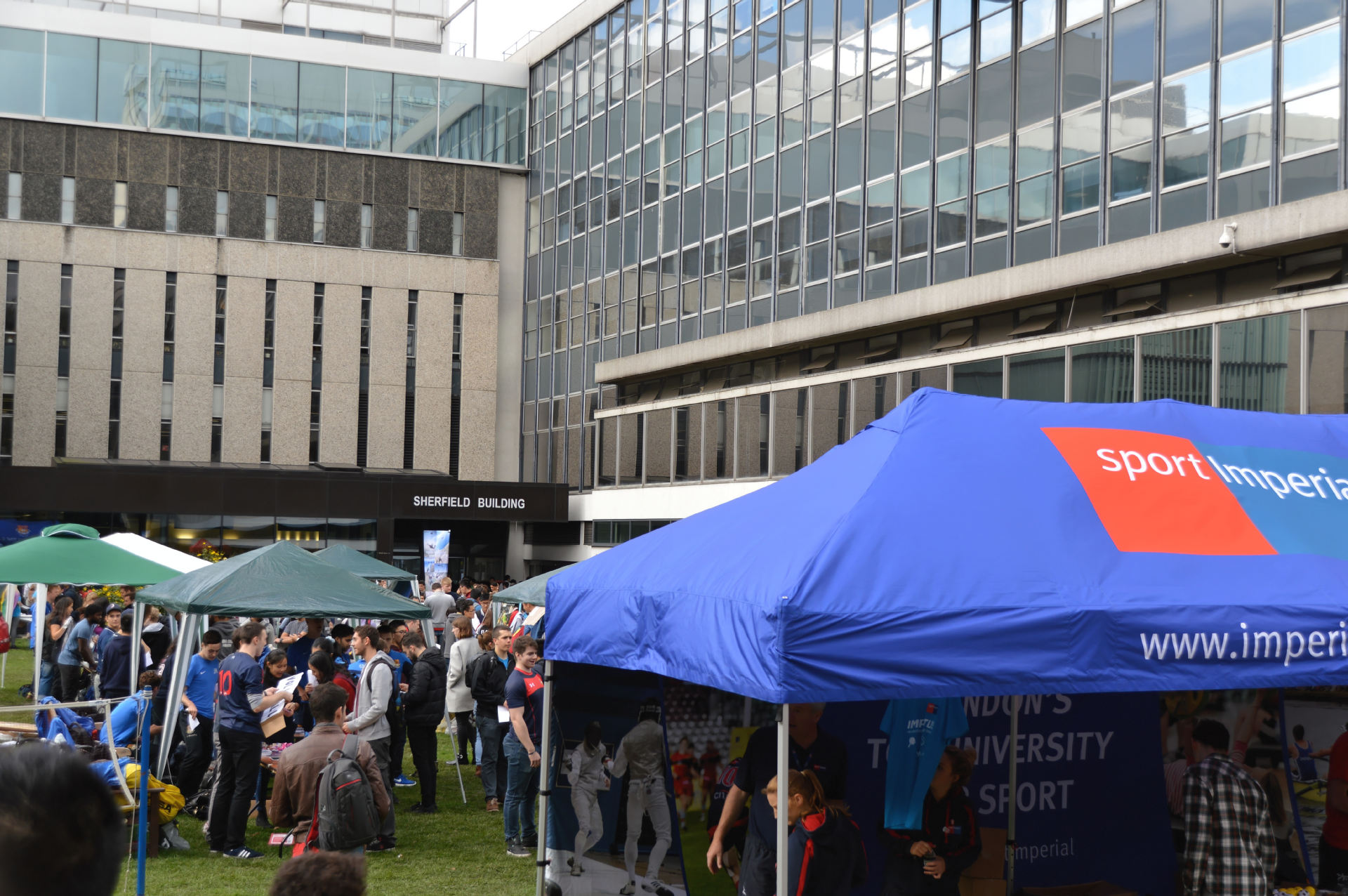 Sherfield
Outside the Junior Common Room the Sherfield stairs were overladen with students. I could only shuffle my feet to move slowly. Instead of going down a flight of stairs I strolled into the Great Hall where the national societies congregated. This was a busy indoor market where students no longer finger their smartphones, this was a chance to meet their country men and women and to make new friends with dialogue and eye contact. A sense of pride, a place where some national flags were displayed. It was easy to find the Thai, Taiwanese, Singaporean, Malaysian, mainland Chinese, Hong Kong Chinese and British Chinese stalls. However I did miss the Mauritian stall (it was there but I did not realise its presence). The busiest ethnic Chinese stall by a mile was the mainland Chinese stall, followed by HK, Singaporean and Malaysian as well as the British Chinese which was named "Abacus". My wife was with me by then and I asked around and learnt that there was no Vietnamese stall. We did find a Korean stall whose stallholder said that he had about thirty members. We spoke to many students and jokingly teased a tall handsome Brunei Chinese man on our speculation that he was a millionaire from the nation's oil reserves. On the subject of oil, I visited an Iraqi stall manned by a tall Iraqi and a lady in hijab. After seeing so many oriental societies I questioned the tall Iraqi, who offered me some cookies, if there were other Iraqi stalls about. He informed me that there was just the one and all Iraqis were the same people. I took this as a diplomatic and political answer though I was on a knife edge of knowing too much, now what was that Shia and Sunni and the Ottoman Empire etc., and too little. I assumed a mind of ignorance as a little knowledge could be a dangerous thing. I did draw an analogy that a war torn country like Vietnam had ended up with a north and south divide. Then our quick getaway ensued from this dimly lit Great Hall to the Queen's Lawn and into the embrace of warmth and sunshine. What a glorious day. There was a long queue of students in Sherfield to get into the Queen's Tower Hall (was the student refectory and still is).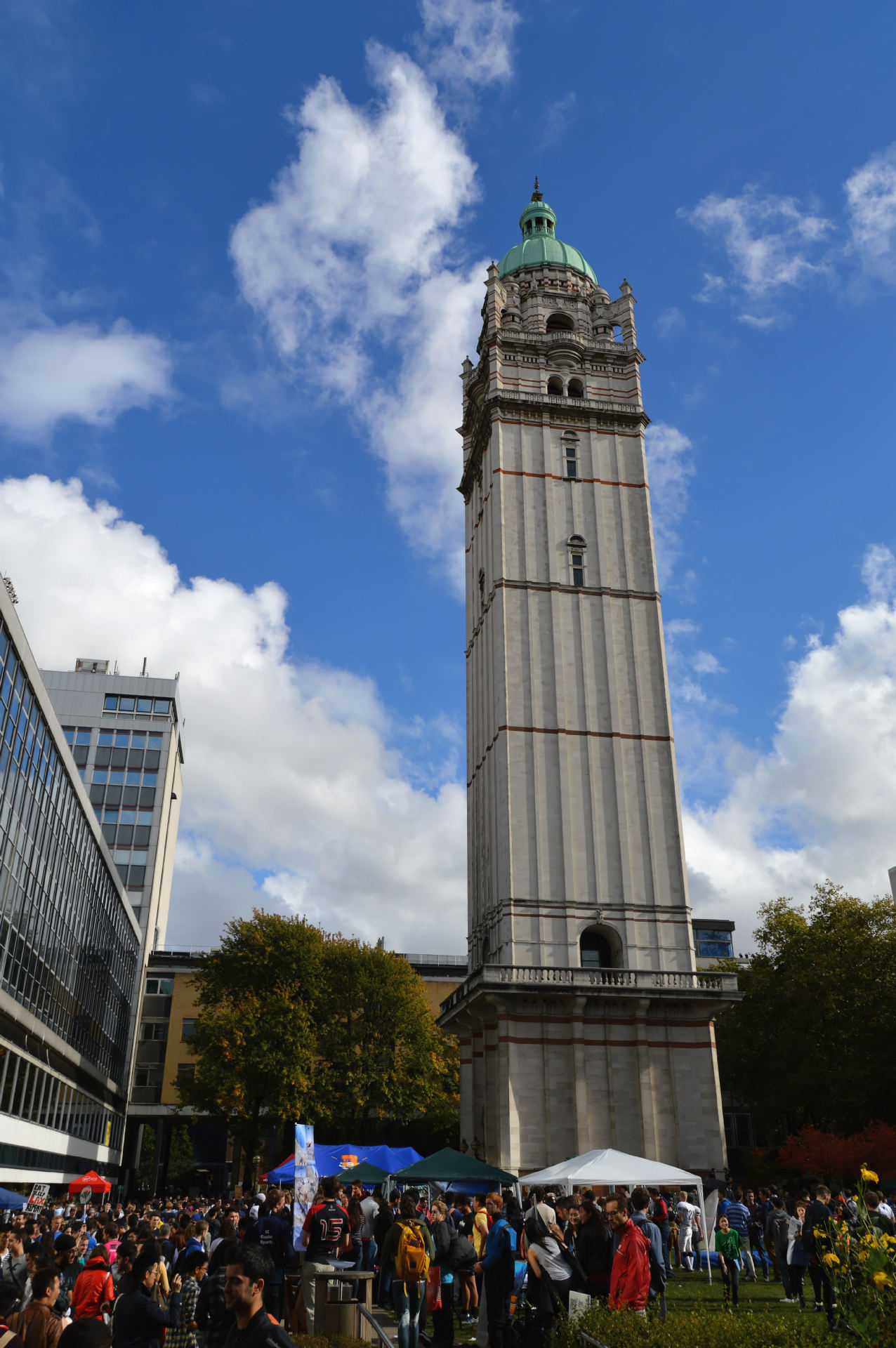 Queen's TowerWe made a tour of the lawn which was filled with sporting clubs and outdoor clubs such as gliding, racing, hockey, football and rail. By then the sky was blue and the sun had melted away the grey clouds. Here we met a couple from China, they had previously met a few months' ago, on an IC pre-sessional English course for MSc and PhD students. Neither had sufficient IELTS grades for admission. I eyed them both briefly to see if there was an early sign of affection as I love romantic stories. IC of today, was indeed more balanced in culture, gender, faith etc. The stalls were manned with people from all over the world when in old times they would have been manned mainly by the white British. Against the flow of student traffic I entered the Queen's Tower Hall refectory. This was a hall filled with stalls for the mind, soul, faith and some commercial companies. There was a giant swing clock dial operated by Nandos, the chicken restaurant chain. It attracted a long queue of happy punters wishing for a freebie such as a portion of chicken or a discount voucher. The circular dial was marked with segments showing the value of freebies. In brief, the smaller a segment was the higher the value of the freebie on where the spinning dial arrow eventually stopped spinning. This feature attracted a long queue of new Nandos trainee eaters. Nandos chicken is a firm favourite of IC Chinese and the queue showed it. The catering staff served a Chinese stir fry and this was given out for free to students as very tiny portions. I paused at a stand with inscriptions, "Feeling shit?", "Suicide is the single biggest killer of men aged 20-45 in the UK" and "Campaign Against Living Miserably, CALM". A middle aged lady approached me and explained to me what was going on (www.thecalmzone.net). She handed to me two promotional campaign beer mats, three postcards and a booklet. With these in my hands I reflected in a flash that I could make use of the two beer mats in times of sorrow and feeling a need to wash my dry tongue and lips with some amber nectar. With campaign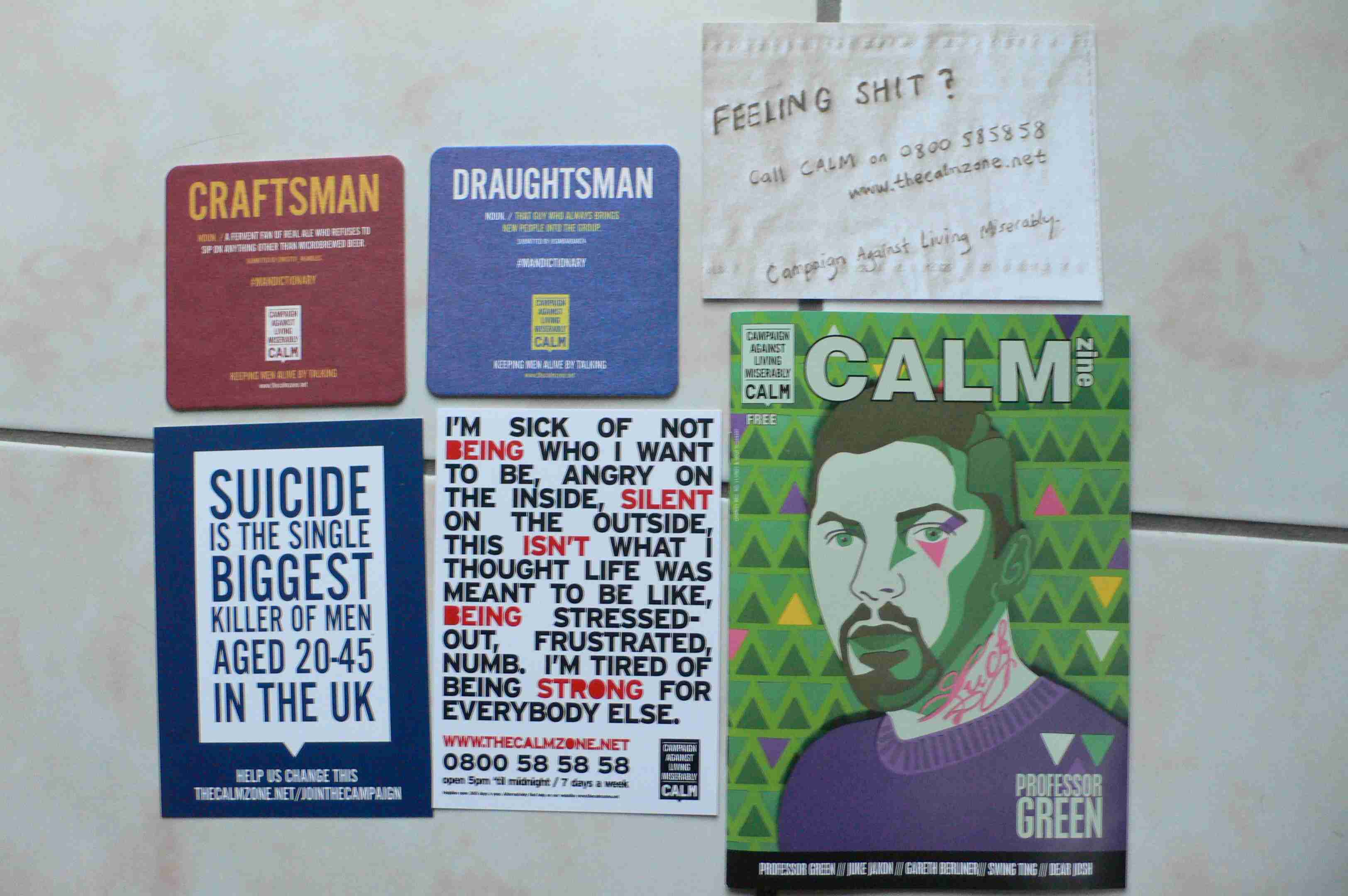 CALM promotional campaign sales talk this lady said, "blah blah……..humanity", to me. This latter word triggered a nervous tic from my high order brain cells, a part of brain that is normally reached by Carlsberg or its cheaper substitute. I enthusiastically said to her in empathy that the "h" word, humanity, was rarely spoken nowadays, in my case I could watch TV news and listen to gabble for months on end without hearing this exact word, humanity. I asked her tersely how many young men died in a year, reminding myself that there was a legend or myth about Queen's Tower just outside in a long distant time when students had launched off before bungee was copied by the Aussies from the Papua New Guineans. Unexpectedly the lady answered that she did not know how many. The next stall that I was collared was a stall giving out bananas with a hand written message, http://www.htb.org/alpha , a young man said that there were (and are) many huge questions about life. I was sure that one could only find these answers within oneself, if needed at all in the first place. Persons of any faith or no faith could join and to debate these questions about life with others. I comforted myself as being much better off than most and moved on mumbling words of corporate greed crushing the livelihood out of people. I quickly peeled my banana and fed my soul. The future could be a better place as these young students, the brighest of the bright, did queue in their droves for these stalls in this hall campaigning for better living for all of us on the planet.
Beit Quad
The Beit Quad, aka Student Union building, was the same as it had been always. On the way there from Sherfield we passed a white student, flanked on both sides by beautiful oriental girls, all dressed in ballroom dance wear. Man was cloaked in black formal jacket and slacks and the ladies had black swan style dresses adorned with sparking jewels. They were heading towards Sherfield. This dramatic encounter reminded me of someone. If I were to be a student again I would make sure I went to a ballroom dance school first. Then I would learn MSc in banking as diamonds are a girl's best friend. Girls like anything sparking as shown by their dance customs. By the time we got there at Beit Quad it was about 15:30 event closing time so it was rather quiet as students were packing up for the day. We made a quick visit to the two bars. The old union bar with its fireplace and wooden benches were there as if time had stood still. On our way back to Sherfield we passed by the same two girls again with swaying black dresses as they swanned back to the Student Union building. I presumed that they were promoting the Ballroom Dance Club.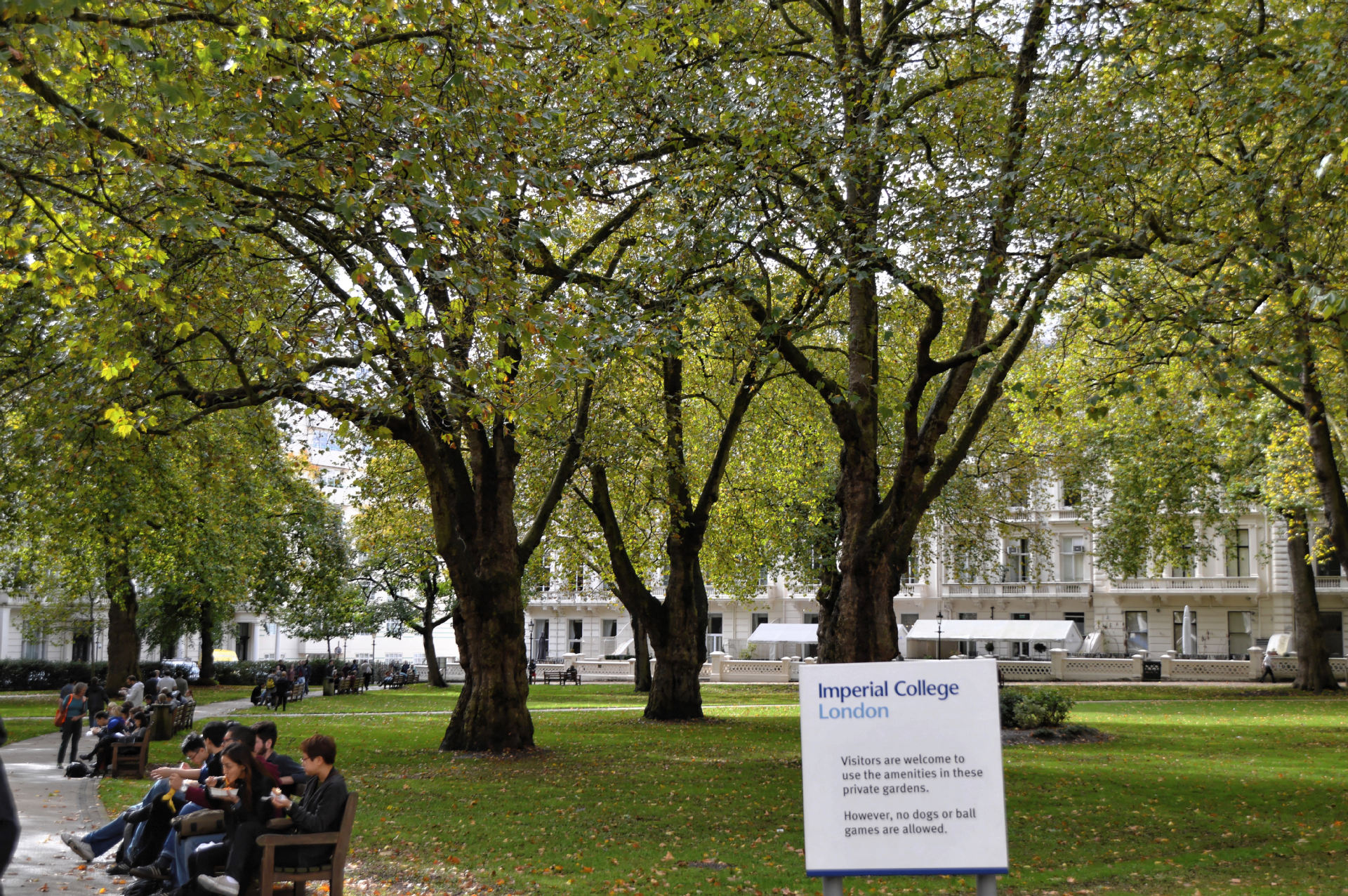 Prince's GardenWe visited the Prince's Garden and its encirclement by IC halls of residence. There was a couple in the garden holding hands, speaking Cantonese, as they strolled towards Linstead. After the long dry summer I was surprised to see lush green grass. The Southside comprised of Falmouth, Keogh and Selkirk Halls. The Eastside Halls, was just Linstead Hall formerly, comprised of, right to left, Linstead, Gabor and Wilkinson. Northside has just the Weeks Hall left since the Garden Halls had been removed from residential use. This is a superb area to live in, the Prince's Garden is a joy of premium calm oasis to live in, the much cheaper college convenience store, unlike Harrods Food Halls, a stone's throw away, belies its millionaire row significance. There were a few gazebos and market stalls in front of Eastside. I identified most of these as being regular market stalls as I had seen them before on Queen's Lawn. I went up to Wild Country Organics and quickly confirmed with its entrepreneur, Adrian, that he was usually found on Tuesdays at the IC Farmers' Market weekly, that they were squeezed out from Queen's Lawn because of this huge event. His stall was, and is that I am sure, my favourite stall, he had a large display of organic vegetables that far excel that of Harrods Food Hall, North End Market or Waitrose. Eating healthily using these organic vegetables was not easy for a students, I pondered as there should be a fair amount of knife work. The seven plus varieties of squash would make hearty, wholesome and tasty soup but they had tough skins and awkward ridges to skin.
At 16:00 the students started to leave the event. I was sure, judging from the number of clubs and societies there would be many gatherings and chances to make friends, many of whom would become enduring friends and partners, many of whom would be oceans apart. Oh, what a wonderful day!

At the main entrance, as we were leaving we met two Malaysian students, one of whom was concerned about politics and its impact on the environment. I was quite heartened by what he said. The world is at the hands of these new engineers. More importantly some of the brightest scientists and engineers need to become politicians and religious leaders. As we returned home after a long day we met on the stairway from a train platform an acquaintance whose son after graduation is aspiring to be a rabbi.
Proof reading service on notice board at IC
Foot note: Shall I ask someone to proof read the above at a price from £8 per 1,000 words?! Why so cheap rate, possibly the service is read and mark up only as it is not easy to edit well for someone for £20.